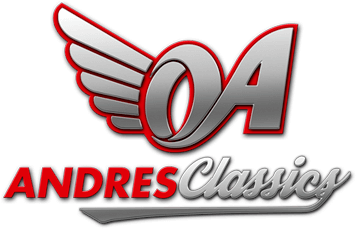 ANDRES CLASSICS
Today's high technology for yesterday's classics
Neumáticos Andrés, a leading tyre distributor in Spain and Portugal, is also your classic tyre specialist, Andrés Classics.
Discover Dunlop Sport Classic, Dunlop's tire that lets you enjoy the best of both worlds: A classic design, combined with Dunlop's state-of-the-art handling and braking capability.
DOWNLOAD PDF
Neumaticos Andrés and Dunlop join forces to distribute a wide range of references and original measures for any classic: Austin, Porsche, Bentley, Mercedes Benz, Ferrari, Jaguar…
Why choose
ANDRES CLASSICS

EXPERIENCE and SPECIALIZATION
We know what your vehicle needs and we have specialists in classics, who can provide you with the best advice.
ASSEMBLY NETWORK
Through the union of ONNEU workshops, we will assign you the workshop specialized in classics closest to your home.


PERSONALIZED ATTENTION
Do you want one of our experts in Classics to call you?
+34 616 177 525 / clasicos@grupoandres.com
Why choose
DUNLOP SPORT CLASSICS

STABILITY AND STEERING ACCURACY ALSO AT HIGH SPEEDS

ADVANCED AQUAPLANING RESISTANCE
Drive your classic car safely on wet surfaces thanks to an optimized tyre design that improves grip.

THE HANDLING AND DRY BRAKING OF MODERN CARS ADAPTED TO THE CLASSICS
Enjoy a classic-style tire with modern technologies that enhance maneuverability and steering feel.